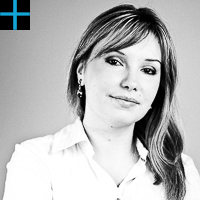 Raluca Ene
User Experience Designer
---
Global Experience
Web & Graphic Design
User Experience Design
Team Leader
Project Management
Training & Development
---
Experience mostly in B2B, technology and retail.
Expert in UX design standards and best practices, insightful, open-minded, creative yet pragmatic, flexible and efficient problem solver, and ABSOLUTELY great to work with!
Loves to design useful and beautiful products that people love to use, by applying her versatile UX Design skillset: Information architecture (IA), interaction design, User Interface (UI) design and usability.
Likes to be the Product Owner in agile projects, manage budgets, timelines and resources for several projects at once. 
Obsessed with art & design. Very curious about everything. Compassinate with people and animals. Loves making people laugh (or at least crack a smile).
---
---